Internal control, CRO, and also CEO, CFO, CAE, CCO
Your GRC costs are too high.
You need to increase awareness and ownership of control.

How do you increase value to your boards?

Where do you find GRC expert staff or an ad-interim CCO.

You need an assessment on the effectiveness of your GRC.

Improvement in risk & control is needed.
The control environment is complex.
You need a vision and an action plan to align all governance bodies.
How to improve the job-satisfaction of your staff and increase retention?
How to work together with other control functions?
How to automate your controls testing?.
Your IT reveals control issues (eg SAP/Oracle security, IT-controls, IAM, or authorisations.
How to drive a GRC (technology) program, including benefit tracking, project management, quality assurance, and training.
Technology, specialist consulting & managed services
Strategy, governance and structure
Strategic consulting (workshops or coaching) to define 'what' you want/need to realise to be effective (vision, added value, planning, maturity plateaus), resulting in a concrete GRC and or risk program ('how').
Consulting to define effective integrated governance (lines of defense, stakeholders, communication).

Co-source or fully outsource your GRC and risk function; including software (GRC as a service).
Policies & processes
Hands-on consulting to build your methodology, risk universe, assessments, controls treatment & testing, policies and procedures based on your vision, charter, strategy, and plan.

High quality specialist on expert risk & controls topics (eg, vendor, security, IT, export controls, ESG, SOx, and so on).

Repetitive GRC and risk work (eg, operating effectiveness testing, risk monitoring, reporting) as managed service. Provide flexible Dutch and English speaking compliance staff at your location, out of our service centres, or hybrid.
People
Training and or control awareness, soft controls, and integrity controls.
Ad-interim GRC/risk Directors and specialists.
Technology
Select, implement and optimise GRC and risk technology to improve control and lower costs.
Improve risk & control awareness and performance via visual-oriented risk management software.
Software implementation (often with content and frameworks included); agile, in-time, and at a fixed price.
Integrate GRC technology via API-platform.

Happy staff
We focus on your repetitive work,
Provide staff availability and flexibility (up- and downgrading).
Resulting in increased job satisfaction for your staff.
High staff retention.
Focused knowledge transfer.

Increase effectiveness
Technology forces effective and efficient process execution.
Experience experts for strategic and operational (hands-on) advise.
Effectiveness, efficiency and quality improvement is included in our managed services.

Reliability & trust
We meet your objectives and requirements.
Our repository of automated controls and application security provides reliability.
Reliability and continuous insight for all stakeholders creates transparency and trust.

Cost efficient savings
Efficient process execution with technology and trained staff.

One-time-right quality consulting (less hours, higher value) at competitive prices.
Managed services reduce 30% costs (compared to European standards).

High Quality
With our technology resulting in high quality process execution.
Best in class consulting including content (frameworks).

Embedding new way-of-working (make it stick).

High quality managed services seamlessly integrated in your process.

Added value
We make you best-in-class for you to add value.
Full project support.
Building your capabilities to continuously improvement.
Quality assurance over the transition is included in our managed services.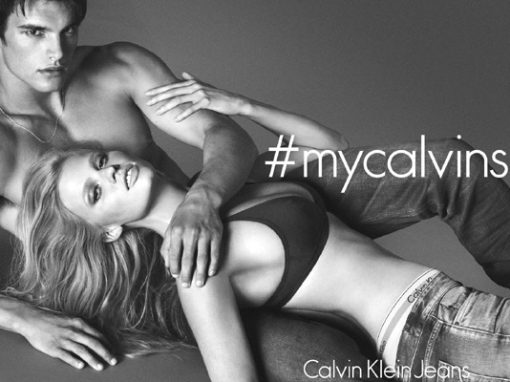 reaching new heights with your GRC and risk management; continuous insight in your risks, controls, and status of your issues in one integrated dashboard
technology to enforce controls treatment to mitigate all your risks
high quality risk and controls consulting, supporting you through your entire journey; both strategical as hands-on operational
pool of GRC experts to support you when and where you want
vision about and capabilities to realise integrated governance towards trust
Together with our technology vendors, we help our clients to select, implement, enhance & protect their GRC and risk technology solutions.
We support in:
Building the GRC and risk technology vision and plan.
Align with other governance bodies and implement software solutions.
Select the right technology from requirement analysis, RFI, RFP to contracting.
Providing demo's and realising sandboxes to give you an understanding of the functionalities.
Set-up and (fully) execute the technology plan.
Do the market inquiry and provide reference clients (visits).
Technical realisation of the software (on-premise of together with the vendor in the cloud).
Customise the GRC and risk software.
Implement your way-of-working, organisation structure, policies, processes, risks, controls and report in the software.
Provide and implement content and frameworks.
Train you staff in the usage of the software.
Implement capabilities for you to continuously improve.
Integrating technology solutions (API connectivity).
Securing your software and data.
RegTech software applications are plotted in the picture to the right (with an indication in percentages of different type of software)
Top GRC and risk partners
Risk & compliance
CERRIX is the best value for money full GRC suite from The Netherlands. Strong at financial institutes because of embedded form functionalities to realise KYC/CDD compliance. Best in class to design business process, linked risk & controls, and action tracking. ISQM functionalities are built in to support external auditors to implement their quality system and thus become compliant.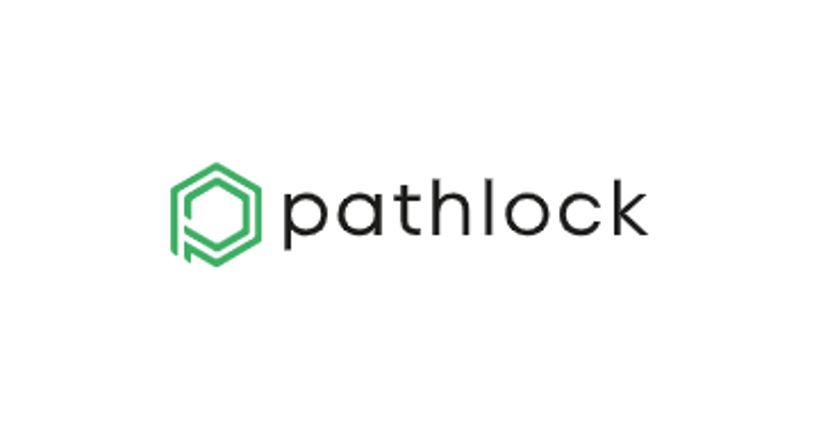 Transaction monitoring
Pathlock's access orchestration solution supports Zero Trust application compliance with a cloud based loss prevention control platform. Pathlock manages all aspects of access governance in a single platform, including user provisioning and temporary elevation, ongoing User Access Reviews, internal control testing, continuous transaction monitoring, and audit preparation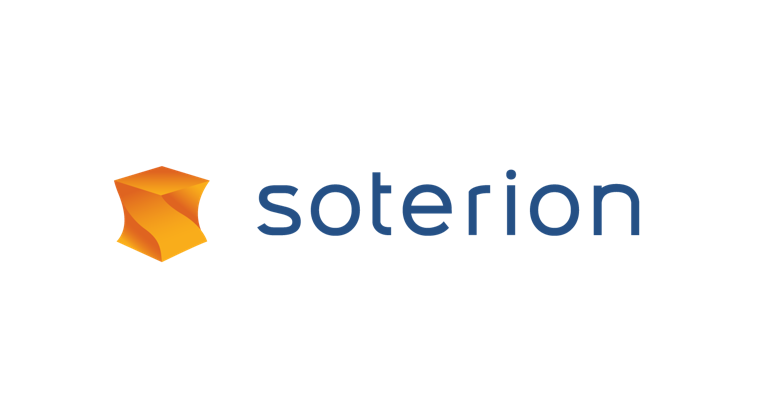 SAP GRC solution
Soterion has built a business-centric agile GRC solution on top of SAP that enhances accountability of SAP related risk & compliance. The solution has extensive functionalities to analyse user rights, improve compliance and stay compliant. Soterion is quick to install, easy to learn, S/4HANA ready and boasts an award-winning user experience; both on premise, in the cloud or as a managed service.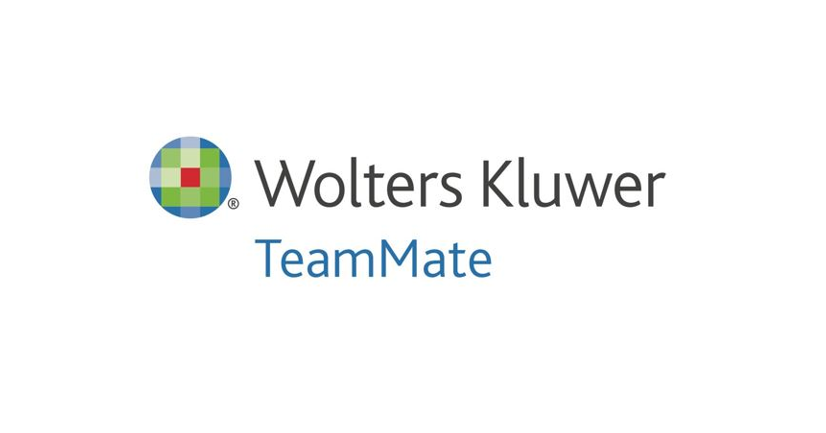 Audit & controls
World's leading (internall) audit and assurance expert solution with over 25 years dedication to auditors. Is used by banks for 2'nd line compliance monitoring departments with a similar methodology as internal audit. TeamMate has more than 3,000 customers in over 150 countries. Among their customers are 30% of Fortune 1000, 40% of Fortune 100, the top 5 Global Audit Firms, and more than 1,000 Public Sector Agencies.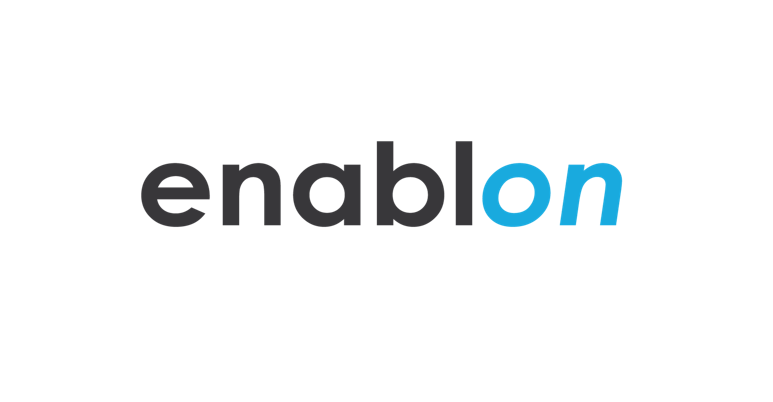 GRC solution
WolterKluwers' Enablon provides the Mercedes amongst GRC-solutions. Besides the full GRC-suite, the solutions manages safety and environmental performance (ESG and HSE). Enablon's solutions are used in more than 160 countries by the world's leading companies. Enterprises have chosen Enablon solutions to enhance the management and reporting of nonfinancial performance.
High value GRC & risk consulting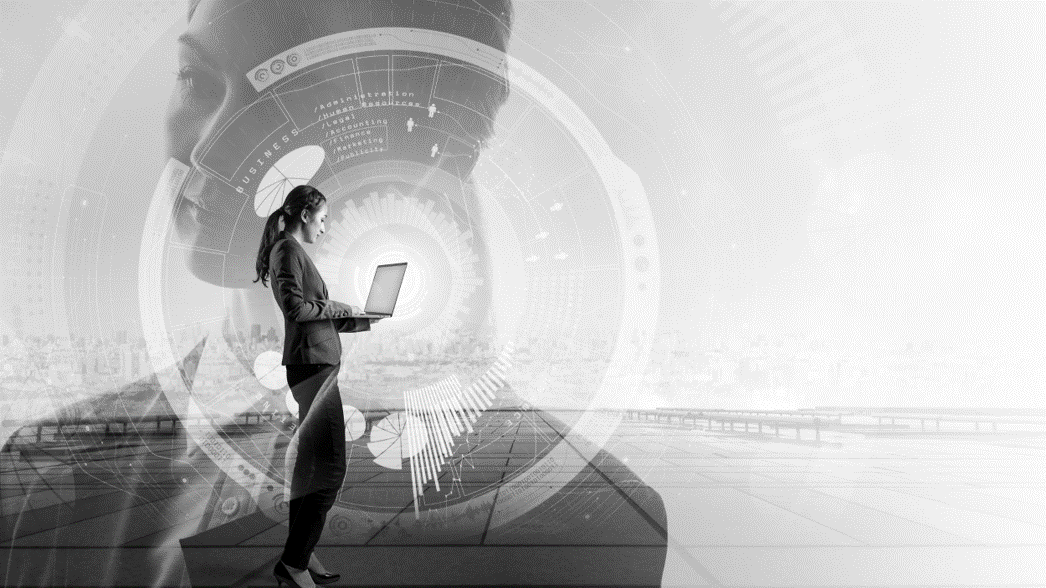 Assess
Your capabilities to prevent, detect, and respond.

Compliance function maturity scans.
Your process to independently do internal investigations.

Compliance risk assessment methodology.

Compliance technology assessments (regtech, GRC software, and tooling related to sanctions & embargoes, TPDD, GEH, S&D).

Strategic compliance capabilities assessments, including management of the function, 'tone-at-the-top', commitment, capabilities, vision, strategy, continuous improvement.

Effectiveness of governance (positioning, alignment with other lines-of-defense, and reporting lines).

Operational compliance capability assessments, including policies, risk and control treatment, methodology, plans, handbook, dashboards, and reporting obligations.
IT compliance, including ERM (SAP) authorisations and security.
Content and frameworks reviews.

(Financial sector) compliance monitoring (2.5 line of defense).

Compliance staff quality and requirement assessments.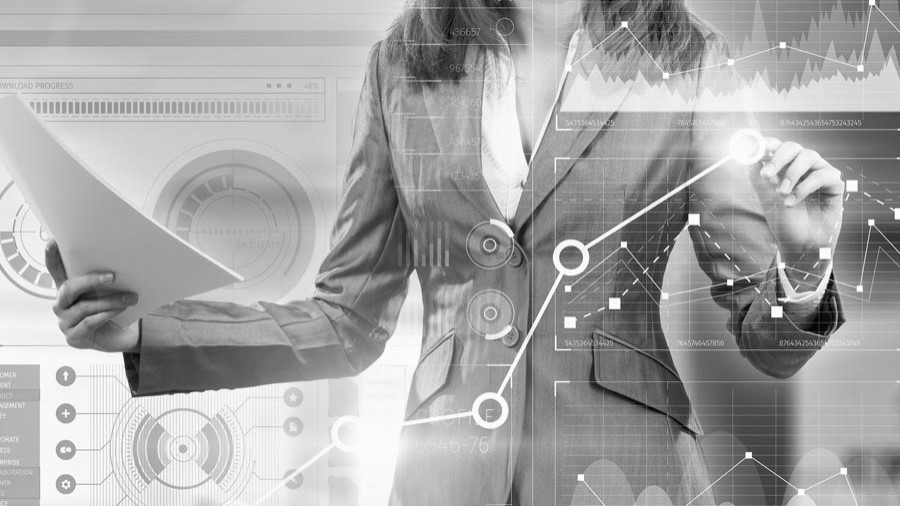 Improve
Provide ad-interim Compliance Officers.
Specialist consulting on topics and regulations (eg, export controls, trading compliance, integrity & soft controls).

Board Audit Committee and Supervisory Board consulting.

Risk & compliance (awareness) training & ongoing counselling.
Executing compliance testing and independent investigations.
Strategic improvement program using maturity modelling and our vision towards the compliance function of the future where the focus changes from testing to continuous insight providing trust to boards, stakeholders, and society.
Value improvement, and (integrated) governance.
Technology selection & implementation and usage improvement.

Operational process improvement, code of conduct, risk treatments, policy compliance check, s

ystematic case tracking, sanctions and disciplinary measures, self-disclosure / reporting obligations

.

Compliance framework and content provision.

SAP authorisations & security compliance.

Continuous transaction monitoring.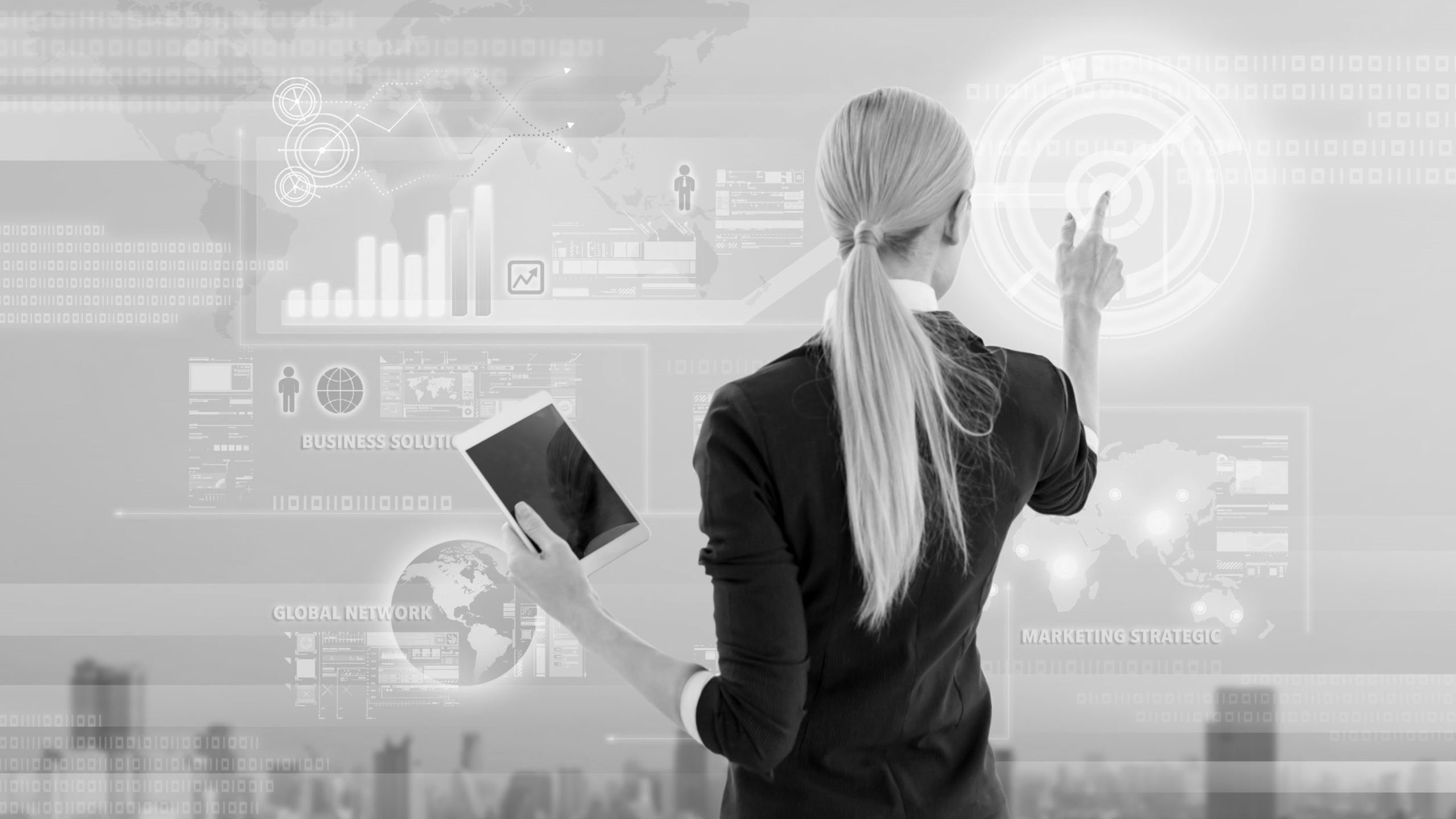 Embed
We support to make all improvements stick by guiding your staff through all changes and periodically monitor the execution of your new way-of-working.
Embed learned skills and realise a culture of continuous improvement.
For those clients who don't have the right capabilities, or just want to outsource their compliance function, we provide managed compliance services. This includes embedding the new way-of-working over your organisation and BR1GHT.
Managed GRC and risk services
For those clients who don't have the right capabilities, not enough staff members, want to make fast quality improvement step or just have the strategy to outsource, we provide managed compliance services out of:
Suriname. Both 'high value' consulting plus repetitive compliance activities with a focus on energy trading, financial institutions and external auditors (ISQM). Our services include controls effectiveness testing, pre-accumulating compliance files, compliance testing, transaction & reporting oriented work, project management office activities, and so on. Read more for details related to banking compliance.
South Africa.

IT-compliance, including (SAP) authorisations, application security, automated controls testing and identify & access management. We also run specific data-analytics or process mining programs. All our teams are skilled in the latest technology.

We provide both co-sourcing and full outsourcing. The biggest difference is that with co-sourcing our teams work fully under our client's management supervision, in their IT-environment, and in their risk & quality management systems. With full-outsourcing, all risk & quality requirements are clear and written down in a service level agreement and we agreed that we can fully comply with them.
Teams in Suriname and South Africa always work together with local BR1GHT people at your location. These local 'linking pins' make sure that we always understand your needs and if issues pop-up, we can immediately solve them. They are responsible for the seamless integration of our and our client's staff.
We have our proven methodology for onboarding to guarantee a controlled transition called 'the 12-successfactors of change management'.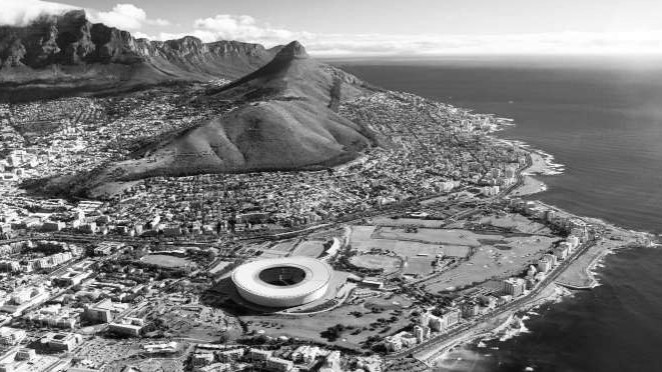 Flexible pool of GRC and risk specialists
Integrated governance towards trust
BR1GHT's partner Wolters Kluwer, a global leader in professional information, software solutions, and services, has been named among the leading global providers of ESG Software in the inaugural and prestigious Green Quadrant: ESG Reporting and Data Management...
read more
The digital transformation is reshaping organisations with an increasing pace. Digital solutions using RPA, IoT and mobile are being implemented in the business to save costs, improve business processes or to build client intimacy. But what are the risks of these new digital solutions, how do you control them and what does digital mean for your control environment? In a series of publications, we will dive deeper into these questions and take you with us in our Digital Control journey Towards Continuous Monitoring.
In this publication you will read all about:
What are the risks of new digital solutions, such as RPA, ML, IA,
The need to continuous monitoring,
Wat is continuous monitoring,
How 2'nd and 3'rd Lines of Defence can use continuous monitoring,
How to use continuous monitoring to provide assurance,
Upskilling risk and internal audit specialists.
If you would like to know more about continuous monitoring, please contact us. We can provide you with concrete examples of implementations.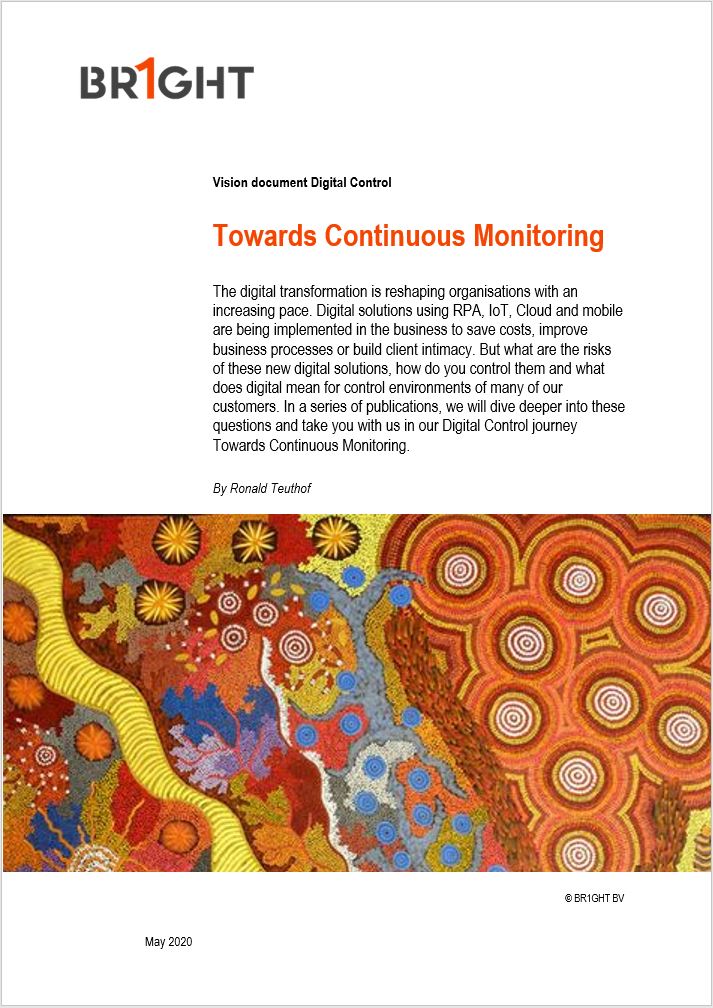 Want to learn more?
Find out what our GRC and risk management propositions can mean for you.
Please contact us if we made you curious.
Thank you so much for you interest in us!