Capture value in three areas
Board with us on a journey to automate the internal control functions towards Digital Control:
continuous (controls) monitoring,
net risk monitoring,
real-time compliance,
security by design,
agile integrated audit,
trust management, and
continuous assurance.
Elements of our vision for the future of control with huge impact on how we  control new digital business solutions (eg, RPA, Low-code, ERP, cloud, mobile), the way we work, and the skill set of our GRC specialists. We help control specialists to identify and utilise technology to professionalise their work, lower costs, and increase the value of control providing trust to business and society. Read more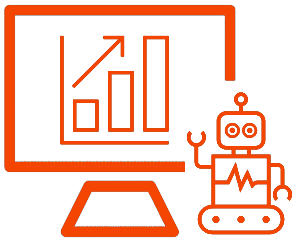 Business management demands real-time financial insight from the Finance function. CFO's are challenged to build analytical (self service) financial dashboards, while in the mean time the complexity of businesses increases, inefficiencies need to be automated via RPA, Low Code, and main ERP-systems are in transition to the cloud, while the compliance pressure was never as high as today. We provide:
finance automation,
real-time insights,
finance control (SOx),
BI-dashboarding,
continuous stakeholder dialogues, and
RPA compliance.
How do you add value through technology as Finance, lowering costs and stay compliant? Read more (will follow soon).
Technology is no longer the domain of IT alone. Businesses innovate with new digital solutions and take ownership over Technology. To stay relevant and add value, IT-functions need to evolve towards a strategic business partner thinking in end-customers' perspectives. IT must drive digital transformations. They have the challenge to build and manage flexible (hybrid) cloud based integrated application landscapes and secure data solutions. All in an agile way together with strategic technology partners. We support you with:
IT governance and control,
SAP security & compliance,
IT automation & managed cloud migrations,
application integration via API-platforms,
IT driven business & process improvement,
new digital capabilities & innovation, and
agile (SAFe) digital transformations. Read More (will follow soon)
BR1GHT<www.br1ght.eu/> and Valor Management <www.valormanagement.nl/> are very happy to announce that, as per the 1'st of January 2021, BR1GHT and Valor Management have joined forces aiming to be one of the most dynamic independent solution providers for...
read more
Get in touch
We hope you are able to attend. If you have any questions, please don't hesitate to reach out.
Bascule 3
3981 PH BUNNIK
+31 (0) 850239865
How can we help you?
Let's start to say hello!
Please contact us if we made you curious.
If you would like to receive news or insights, please subscribe.
Thank you so much for you interest in us!